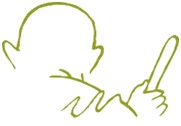 Gandhibharati
International Center for Applied Gandhian Studies
Vision Document
January 30, 2020
Prepared by
Dr. Arun Dave

Dr. Vishal Bhadani

Managing Trustee, Lokbharati,

Sonosara

9426471277

Director, Gandhibharati,

International Center for Applied Gandhian Studies

9426885387
Inside
No.

Particulars

Page

Executive Summary

Context

Nomenclature: Terms Defined

Vision, Mission and Core Values

Applicability, Diversity, Sustainability, Collaboration, Innovation, Comprehensiveness

Methods and Procedures

SOP: Empirical Gandhi

Dedicated Pair of Wings:

Knowledge Creation& Knowledge Dissemination

Proposed Programmes: Activities and Initiatives

Research and Innovation

Education and Development (Training)

Extension and Problem-solving

Communication and Collaboration

Resources: Infrastructure, People and Budget

Action Plan for Implementation

Milestones for Next Five Years

Mentors to Gandhibharati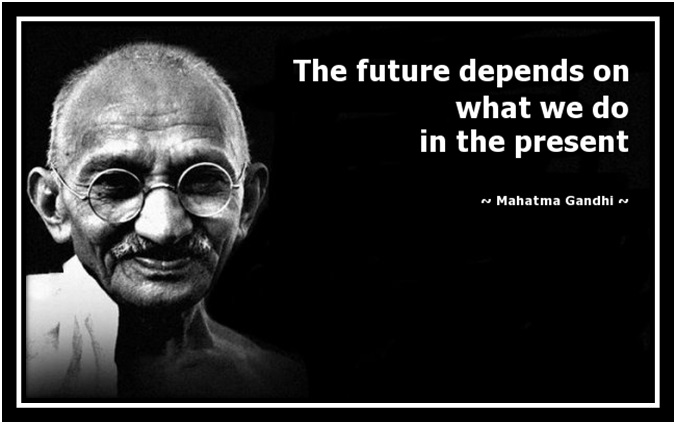 Executive Summary
The vision document explains the macro-concerns of the world concerning Gandhian ideas. It describes the vision, mission, and activities of Gandhibharati – International Center for Applied Gandhian Studies. As it states, the larger goal of the center is to find out possible solutions to problems (local and global) by researching Gandhian principles through empirical methods. There are two precise functions of the center: 1) Knowledge Creation and 2) Knowledge Dissemination by following the standard operating procedure laid out systematically. Emphatically, the idea is NOT to study life and works of Mahatma Gandhi for celebrating his genius but to critically engage with the same to discover applicable models to tackle 21st-century challenges.
The discussion on initiatives and activities of the center further elucidates four pillars of thrust area: 1) research, 2) education, 3) extension and 4) communication. Each category entails further sub-categories with all the operational modalities. On the one hand, the center is deeply founded on the principles of Gandhi but not merely limited to them. It envisages to reach out any research and initiative that contributes to the sustainability of human values and world through strategic collaborations with premier institutes in India and abroad dealing with Gandhi, Non-violence, peace studies and sustainable energy.
Being an international center for research, Gandhibharati is expected that it has the state-of-the-art infrastructure and organizational structure having expertise and adaptability of global scale. The document lays out the implementation map for the next five years including the budget required and significant milestones. The best part of Gandhibharati is the group of mentors from across the disciplines. These mentors have been incorporated within the functional aspects of the center in such a way that their expertise will be leveraged for all the four pillars of the center.
In all, Gandhibharati explores the practical implications of Gandhi as a thought rather than a person with all possible dimensions of his philosophy.
Context
Let's consider the following facts:
The Intergovernmental Panel on Climate Change (IPCC), which includes more than 1,300 scientists from the United States and other countries, forecasts a temperature rise of 2.5 to 10 degrees Fahrenheit over the next century(NASA).

It is projected that more than half of the people living in poverty will be found in countries affected by high levels of violence by 2030 (Pathways for Peace: Inclusive Approaches to Preventing Violent Conflict,World Bank).

60 percent of all occupations have at least 30 percent of activities that are technically automatable based on currently demonstrated technologies (McKinsey Report).
We are standing at the crossroads of humanity, and we might end up destroying something that we have not built – the planet earth. In particular, humanity is facing four biggest threats to the human race: 1) climate change, 2) violence, 3) moral decline and 4) technological disruption. As of now, we have not been able to figure out and work on the solutions to these growing demons. Apparently, our focus on material development is working against us.
They say, the best was to gain knowledge is hindsight, and as we look behind, we see a towering figure of the last century who had not only anticipated these problems but provided solutions too. That person is Mahatma Gandhi. Dalai Lama puts Gandhi's practices in right perspective. He said, "We have a big war going on today between world peace and world war, between the force of mind and force of materialism, between democracy and totalitarianism. Many ancient Indian masters have preached ahimsa, non-violence as a philosophy. That was mere philosophical understanding. But Mahatma Gandhi, in this twentieth century, produced a very sophisticated approach because he implemented that very noble philosophy of ahimsa in modern politics, and he succeeded."
Gandhi thought, spoke, acted and lived in exactly the same way. It was his symmetrical relationship between his thoughts and actions that inspired and will continue to inspire many political, social and religious leaders all over the world. Whether is Joan Baez, the American folk singer and human rights activist, or Cesar Chavez, the American social activist, or Joanna Macy, the environmental activist, or Mubarak Awad, the non-violent Palestine leader and many others get different inspirations from Gandhi in their fight.
Mahatma Gandhi was a person with a comprehensive worldview, i.e., he has analyzed and contributed to all the dimensions of human life. Largely, he experimented on various aspects of building a just and sustainable society founded on the principles of truth and non-violence. Besides, his ideas have been found relevant across the globe. A systematic study of his principles and practices may provide us with the guidelines for building a prosperous, happy and peaceful world in the future. Since his worldview was not fragmented into pieces but holistic, he remains alive through his thoughts to usher the way forward.
Many of his ideas await rigorous investigation and implementation in the changed-order of the world today. His lectures, articles, books and life per se demonstrate pathways to embrace mindfulness, simplicity and humility, minimalism, conflict resolution, building harmony and peace, equity and equality, sustainability, tolerance and acceptance, new diet system, employability and education, integrity and work ethics, trusteeship and inclusive economics, duty-driven politics, to name a few.
In such a broader context, Gandhibharati – International Center for Applied Gandhian Studies takes on Gandhi's principle: "Goodness must be joined with knowledge, courage and conviction." Thus, the center is instituted on modern research methodologies (knowledge) aiming at translating them into action (courage) in order to solve problems (conviction) for a sustainable world. Of course, the center is founded on the principles of Mahatma Gandhi with a view to researching his ideas to provide solutions to the individuals and organizations, it is not limited to Gandhi. It envisions to include and explore other ideas developed after Gandhi which are particularly related to peace and sustainability.
The center will be started in Lokbharati, Sanosara. Ta. Sihor, Dist. Bhavnagar (Gujarat).
Nomenclature: Terms Defined
It is said, "the beginning of wisdom of definition of terms." The center will be called Gandhibharati – International Center for Applied Gandhian Studiesfor all the official and communication purposes.
Gandhi

= Life, works and ideas of Mohandas Karamchand Gandhi, the philosopher and life-scientist.

Bharati

= Sarswati, the Goddess of learning. Thus, for all the functional purposes of this center, the term 'Bharati' will be referred to as a systematic study, or research.

Gandhibharati

= Putting both the terms together makes it a systematic method of studyingGandhian ideas.

International

= Involving more than one country. The center aims at partnering with organizations in the other countries for conducting and spreading the research on Gandhian ideas. Besides, the term also refers to qualitystandard of resources and procedures which can be matched with any developed country.

Center

= An institute for research and extension of Gandhian ideas.

Applied

= Practical solutions discovered though research.

Gandhian Studies

= A discipline studying Gandhi's life, ideas, values and experiments.
Vision, Mission and Core Values
Vision:
To design practical solutions for the sustainable life, work, society and world.
There are two ways of approaching a phenomenon: a) to solve a complex phenomenon or entity and make it work for productive purposes, for example helping individuals maintain work-life balance, and b) to improve the existing phenomenon for better and constructive future, for example, creating systems and procedures to increase people'sloyalty towards their organizations/society. Based on the theoretical frameworks of Gandhian philosophy, Gandhibharati strives to use both the said approaches to design applicable and measurable solutions that would enhance the quality of life, work, society and future sustainably.
Mission:
To provide a platform for learning, researching, experiencing, understanding & implementing Gandhian ideas in modern context with a view to contribute to the sustainable world.
In order to achieve the vision, Gandhibharati creates a platform with all the necessary resources (people, infrastructure and finance) so that people and organizations can
Learn

Gandhian ideas through formal educational programmes both at the center and online

Research

Gandhian ideas across the disciplines, working models and organizations, policies in various times and spaces; and make recommendations in the direction of sustainability

Experience

life as Gandhi lived and preached at the center its extended organizations. For example, living in an Ashram by following the Ashram routine.

Understand

Gandhian ideas through reading, multi-media, development programmes (training), workshops, lectures, field visits, games, etc.

Implement

Gandhian ideas by the way of courage, conviction and clarity as learned through the in/formal programmes of Gandhibharati.
Core Values:
Applicability:

Being a research institute, everything that we claim is applicable so that people and organizations can replicate the models.

Diversity:

The center celebrates diversity by using diverse approaches and methods to reach its goals. Homogeneity of ideas and procedures is dangerous. Therefore, Gandhibharati offers a range of activities and initiatives to include all shades of human life.We invite people from all over the world to come and study/work with us.

Sustainability:

Gandhibharati negates one-time utilitarian philosophy and aspires to find out sustainable solutions so that people can use them for a long time. The center is very self-critical about its own discoveries and believes in continuous modifications.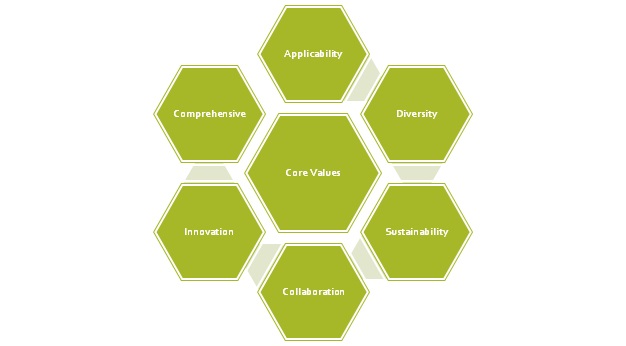 4. Collaborations: There are many organizations, formal and informal, working in the same directions. We make active efforts to join hands and share resources and ideas to achieve our collective goal.
5. Innovation: Innovation drives Gandhibharati. The constant search for methods and materials that are sustainable for meaningful human existence makes our programmes highly unique, our process flexible and adaptable and our experiences joyful and memorable.
6. Comprehensiveness: Since, the center is based on Gandhian ideal of a comprehensive worldview, all the efforts made are but important threads of a common fabric. It is inevitable for all the initiative to justify its presence it the larger mosaic.
5. Methods and Procedures:
5.1 SOP: Empirical Gandhi
We firmly believe that institutions outlive individuals because institutions have their set methods and procedures. Individuals working in the institute may come and go, but the standard processes and goals remain intact.
Gandhibharati envisions to use Empirical Gandhi as its SOP (Standard Operating Procedure). Primarily, it is a set of five interconnected stages.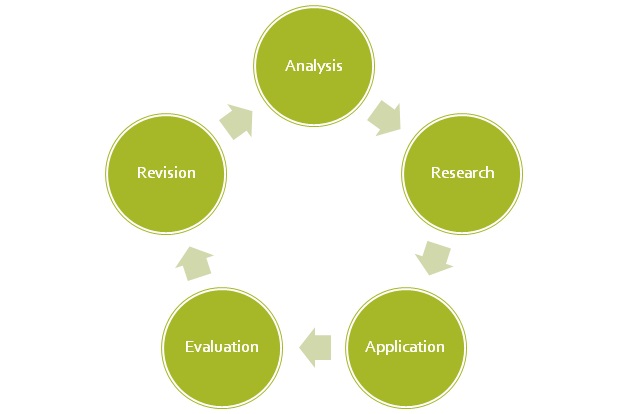 Stage-1: Analysis:
Based on the clarity of Gandhian ideas, Gandhibharati takes a close look at all the possible dimensions of the given phenomenon to analyze it. The purpose of the analysis is to understand the need. It is executed by the Research & Development Unit of the center. Let's understand this stage with an example. Consider an NGO approaches Gandhibharati with an issue of how to raise its workers' commitment towards the goal of the organization. A team of Gandhibharati studies profiles of the workers, organizational policies of the NGO, resources, short-term and long-term goals and then carries out a standardized test to find out the missing connections. Finally, it prepares a detailed diagnostic report with recommendations.
Stage-2: Research:
The second stage of SOP is research, wherein the actual brainstorming and problem solving take place. The key aspect of this stage is adherence to the core values of Gandhibharati. Research is also carried out by the same R & D unit.
We saw in the previous example that the diagnostic report is prepared with recommendations. Based on the recommendations and advice of the mentors, Gandhian models/tools are prepared for the said NGO, which will solve the problem of missing commitment among the workers. These models are explained in details with all the necessary modalities of implementation at the end of NGO.
Stage-3: Application:
Once the models/tools are prepared, they go to the third stage of the SOP, i.e., Application. The models/tools are applied in the NGO for the given period. There are clear guidelines given the NGO regarding Dos and Don'ts during the applications.
Stage-4: Evaluation:
Good research is all about looking at the evaluation of the impact it aims to make, which is the fourth stage of our SOP. It is at this stage that the desired outcomes are mapped with the actual outcomes followed by the gap analysis. Again, R & D prepares the overall report of the impact made by the models/tools.
If the NGO experiences the real difference created by the models/tools, the project comes to an end, but if it does not.
Stage-5: Revision:
This is the last stage of the SOP. Based on the impact evaluation, the whole focus goes onto the revision of the procedures with a view to find out loopholes in the making and application of the model. Then, the whole process begins again.
If the NGO does not find the desired outcomes in its workers, the R & D of Gandhibharati studies the phenomenon again and prepares new models/tools. This cycle continues until the desired outcomes are achieved, and NGO gives satisfaction certificate.
Dedicated Pair of Wings: Knowledge Creation & Knowledge Dissemination
Basically, Gandhibharati creates Gandhian knowledge and then it disseminates the same to its end users. Thus, it distributes its work into two intertwined units/wings.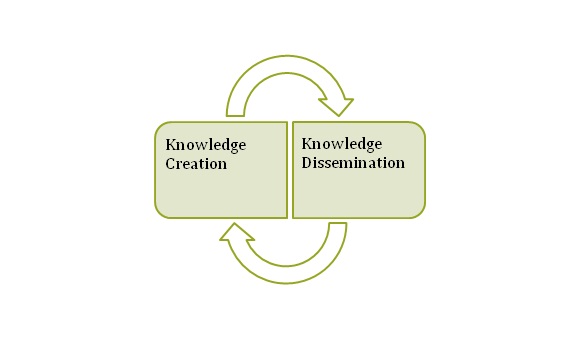 Knowledge Creation:
We have already discussed the system of designing solutions in the SOP. However, Gandhibharati envisages a set of methods through which new knowledge of Gandhian ideas will be created. These methods include:
Research Projects:
Research is the most trustworthy method of creating new knowledge. Gandhibharati undertakes research projects on its own or in collaboration with other institutes to arrive at the sustainable solutions. For example, a research project on How to decrease peer-pressure among teenagers? The scale of the research project may be extremely local and ambitiously global. These projects will be taken by the in-house researchers or by the researchers invited on a fellowship programme, or they can even be MPhil/PhD students from any university in the world.
The center provides all the resources required for the systematic study to the researchers, including a library, technology, food and travel amenities and discussion forums.
Gandhibharti may conduct various surveys in order to collect its own data or collaborate with data collecting organizations from across the spectrum of life, let's say crime, education, health, happiness, GDP, gender, climate change, etc. By using various methods of data analysis, including Artificial Intelligence, Gandhibharati aims to design Gandhian modules of training and development programmes for the people working the respective domains.
Moreover, the center may conduct on-demand research to solve problems faced by individuals and organizations.
Workshops, Seminars, Conferences:
One of the democratic ways of creating new knowledge is through dialogue. It is during the workshops, seminars and conferences that great exchange of ideas takes place, and people have fresh perspectives of looking at the same phenomenon. Gandhibharati organizes national and international workshops, both at the center and at the partnering organizations, in order to have new ideas on the larger issues, concerns and priorities of the world for sustainability. Some of the thrust areas that the center plans to organize conferences are:
Artificial Intelligence and Applied Gandhi

Applied Gandhi and Policy Making for Climate Change

Transforming Nai Talim for the 21st Century

Sustainable Happiness Index through Applied Gandhi

Conflict Resolution Strategies through Applied Gandhi
Formal Education:
Gandhibharati may ask its faculties/researchers/project coordinators to take up interdisciplinary courses, either online or on distance mode or participating national and international conferences to learn about various aspects of Gandhi, peace, and sustainability. Based on their formal education, the faculties/researchers/project coordinators will take up a project and publish a book on the same. Thus, by reaching out to sources of knowledge and engaging with them by making dedicated efforts, the center plans to create new knowledge.
Knowledge Dissemination:
As knowledge is created, on the one hand, it is disseminated through various methods and activities on the other. These include:
Lecture Series:

Gandhibharati will organize a lecture series for school, colleges, universities, research institutes, NGOs, and community and social organizations. These lectures will be delivered by the experts at the center and invited experts(e.g., Applied Gandhi in Engineering/Business/Management/Architecture/Education).

Preparing Learning Materials:

One of the best methods of disseminating knowledge on a massive scale is to prepare textbooks, workbooks and other learning materials on Gandhian values. Therefore, Gandhibharati will prepare such learning materials and will propose the same to the Government bodies across the globe. (e.g., School, College and MOOCs)

Educational Courses:

Gandhibharati will run short-term educational courses based on the various aspects of Gandhian ideas. Such courses will be the vehicle carrying research carried at the center. These courses will be run on both the modes residential and online.

Transformative Training:

Based on the need put forward by any organization or company, Gandhibharati offers formal and informal training programmes. The duration of such programmes may vary; however, the center will have its standard modules for people willing to understand Gandhian ideas. These training will be experiential, i.e., it will have activities, field trips, guided film-screening, games, songs and workshops.

Publications:

Gandhibharati takes publications very seriously. It will start its monthly magazine and will publish books across languages and disciplines centering applied Gandhi. It will also felicitate the best book written on applied principles of Gandhi.

Collaborations

: Working together enables lots of knowledge sharing. To achieve this goal, Gandhibharati will initiate collaborating with premiere working in India and abroad such as NID, IIT, IIM, IRMA, IISc, Gujarat Vidyapith, GRF, Gandhi Heritage Portal, MIT, UN, World Bank, UNESCO, UNICEF to name a few.

Mass Media:

Today, it is inevitable to share knowledge using mass media. Therefore, there will be regular radio shows, films, documentaries and web-series along with blog articles from the center. We will also have a strong presence on social media.

Gandhi On-wheels:

If people cannot come to the center for learning and experiencing Gandhi, the center will go to them with a Moving Library/Crash Course Center/Exhibition displaying practical solutions that people may be facing.

Study Camps:

Students from schools and colleges will be invited to understand Gandhi through songs, cartoons, movies and plays and games. These camps may be conducted outside the campus too.

Study Circles for Applied Gandhi:

The center will run study circles for applied Gandhi in schools, colleges and the informal sector at Regional, National and International level. These circles may also be active on Social Media.

Gandhi Tourism:

One of the innovative methods of disseminating Gandhian knowledge is through Gandhi Tourism wherein the participants will be taken to the places where Gandhi lived and worked (e.g., Porbandar and Sabarmati Ashram) and also make them experience the kind of Gandhian work people are doing today in and around the places

.
Proposed Programmes: Activities and Initiatives
Gandhibharati proposes activities and initiatives that are aligned with its vision and mission in the most applicable manner.
Research and Innovation:

Research:
Under the category of research, Gandhibharati opens fellowship programme for the researchers all over the world: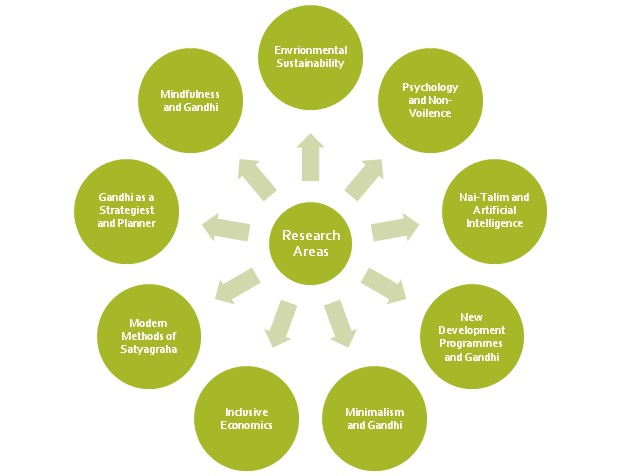 Of course, the above list is not exhaustive, based on the need and scope of the problems, the center will always be happy to receive applications for fresh areas of research. The center provides all the resources required for the systematic study to the researchers, including a library, technology, food and travel amenities and discussion forums. Besides, the same research will be published in center's magazine, blog and as a separate book too.
As discussed earlier, Gandhibharati will host MPhil/PhD students from all over the world from any interdisciplinary subjects that contours with Gandhian Studies broadly.
Innovation:
Innovation being one of the core values of Gandhibharati finds a premium place in the overall operation of the center.
Workshop for Making Sustainable Energy Devices and Life Hacks:
The center will have a training and manufacturing workshop for making sustainable energy devices and life hacks. People coming to Gandhibharati for education, training and research will be trained in the area of productive labour. Besides, the long-term goal of this workshop is to be the international research & development laboratory for rural technology, handy sustainable devices and life hacks. The center proposes to make:
Manual Washing Machine

Solar Energy Devices

Cost-effective Agricultural Equipment

Food processing technology

Water and Waste Management Systems
There will be a selling-desk where all the products made in the workshop will be sold.
A GandhiMusic Band:
The center is very clear about its approach to sharing Gandhian knowledge - it should be joyful. Therefore, Gandhi Music Band will compose and sing songs that convey, resonate and amplify the spirit of Gandhian values. The songs may not be necessarily from Gandhi's life. The band will perform all over the world across languages. There will be regular concerts in school, colleges and other platforms. Another aspect of the band would be training other singers for singing Gandhian songs. There will be a YouTube channel for sharing newly composed songs and concert recordings. Here, by innovation, what we mean is singing Gandhian songs in all possible genres of music, i.e., from nursery rhymes to rock music and rap songs.
The music song may go to places on the invitation as well. The first three projects will include:
Gandhi's Life in 7 Songs

11 Vows of Gandhi

7 Deadly sins
Theatre for Applied Gandhi:
Like the music band, Theatre for Applied Gandhi will enact research finding on the stage all over the world. These plays may or may not be on the life of Gandhi, but they will surely present the spirit of Gandhi in all the creative ways.
Theatre Groups will be invited to the workshops and training programmes for the students. The trained students will perform the plays in schools, colleges and other platforms. Besides, different groups coming for training on other aspects of Gandhi will also be encouraged to be a part of the theatre. Our YouTube channel will telecast all these performances. First few plays will be around the theme of:
Gandhi and Artificial Intelligence

Teenagers meeting Gandhi

Gandhi in Cosmopolitan Culture

Gandhi on the Gun-point of a Terrorist
Gandhian Games:
Gandhibharati's promise to apply Gandhian ideas in life will be realized through Gandhian Games. These games are not only for the children but for anyone who wishes to experience the blissfulness through Gandhian values. Our team will make people play games at schools, colleges and other platforms and make them experience what it feels like living on Gandhian principles. The idea is to give a firsthand experience of applied Gandhian ideals in the most entertaining manner.
Education and Development (Training):
Education:
Gandhibharati is committed to run courses on various dimensions of Gandhi's life and work. These courses are in two modes:

Gandhibharati will be the first to start a series courses on Applied Gandhian Studies in the World.
List of Proposed Courses:
Introduction to Applied Gandhian Studies

Conflict Resolution Methods

Gandhi for Youth

Understanding 'Ends and Means'

Making Gandhi's Ideas on Ideal Society Work

Gandhi and Sustainability

Gandhi's Idea of Trusteeship

Truth and Non-Violence Today

Gandhian Thinkers and Workers of the World

Challenges and Solutions to Applying Gandhian Ideas
Apart from the listed courses, the center also proposes to start:
Certificate course on Gandhian Counselling:
There are many problems in society today just because of the lack of proper interaction. These problems include suicides, divorce, generation gap, conflicts in the family, stress among the students and entrepreneurs, women issues, to name a few. The course on Gandhian Counselling will be based on principles of Gandhian values and modern psychology. The certified Gandhian Counsellors will go to various sectors of society such as NGOs, Hospitals, Family Courts, Schools and Colleges, and any other social welfare organizations.
Employability Skills through Applied Gandhi:
This course will be an exclusive course for college students. We will have MOUs with different universities of the state and country in order to roll out this course for the benefits of all the students studying in such universities. The same course will be run at the center too for a group of students willing to take the course. For this course, Gandhibharati will:
Develop learning materials

Provide training to the resource persons

Assess and certify the students
In the initial phase, the course will be on the regular/residential mode itself. Later, it will be converted for the online learning portal.
Certificate Course on Sustainable Startups:
As Gandhibharati is committed to providing Gandhian solutions for the sustainable world, it envisages preparing an army of people who will work in the area of sustainable startups. A certificate course on sustainable startups will be offered to anyone who wants to start such a startup. Gandhibharati will provide resource persons from all over the world to the group of participants aspiring to be green entrepreneurs. Like the previous course, in this course too, university MOUs will be done after the successful launching of the course at the center.
Development (Training):
Gandhibharati offers Development(training) Programmes for almost everybody. These programmes will be of three kinds:
Standard Development Programmes offered by Gandhibharati. For example, Gandhian Ideas for Technology in Education.

Need-based Development Programmes. For example, a group of engineers, doctors, lawyers or teachers from any organization demanding a particular development programme with respect to their work and Gandhian values.

Customized Development Programmes for any group. For example, a group parents demanding a very specific development module on Parenting.
Our R & D unit will understand all these needs, research on the same and prepare expected modules which will be delivered by the resource persons.
Being a Training Partner:
Gandhibharati would like to be a training partner with any government or non-government organization or even a corporate industry. We will provide all the facilities required to deliver any training such as food, accommodation, training rooms, digital support system and other necessary amenities. The idea is to invite people to experience Gandhi through their ways.
Extensionand Problem-Solving:

Extension:
If Gandhian ideas do not translate into actions, they stand no significance whatsoever. Understanding Gandhi's developmental work for the emancipation of all, Gandhibharati aims at starting extension activities based on the research findings of applied Gandhi. These activities include:
Spreading Khadi amongst the Youth through Fashion Design Workshops, Manufacturing Khadi bags for all kinds of purposes in the workshop

Empowering social workers through providing them relevant training and resources

Encouraging people to use sustainable devices through street plays and subsidies

Problem-Solving:
Any proper research is primarily for problem-solving. Gandhibharati invites problems to be solved by individuals and organizations in order to carry out research in Gandhian ideas. The Empirical Gandhi, our SOP, is particularly designed for the addressing problems pertaining to people because the essence of Gandhian philosophy lies in fixing the man in order to settle the matter! Therefore, we would like to work for solving problems related to
Organizational Behavior

Mindfulness

Relationships

Minimalism – Living with less

Cooperation as against Competition

Conflict Resolution Management Models

New Diet System

Climate Change Awareness in all Sectors of Society
Testing Gandhian Quotient (GQ):
Gandhibharati will design a standardized test for finding out people's Gandhian Quotient (GQ), which will include the application of Gandhian and other universal values.
For example, we will go to an organization and give GQ test to their 1000 employees to find their honesty, work ethics, loyalty, truth, etc. Once we find out the data, we will analyze the same at the center and offer training modules to fill the gap that might exist. Thus, it will be a quantitative approach to solve problems related to people's performance in the organization.
Communication and Collaboration:

Communication:
One of the best things that anyone can learn from Gandhi is his communication skills. Therefore, Gandhibharati proposes to take a few initiatives.
Ask Bapu – A Mobile Application:
Ask Bapu will be a Mobile Application wherein people will be able to ask any question (information, knowledge and wisdom) to Bapu. Based on their questions, they will get any of the two answers: 1) Gandhi's Answer and 2) Gandhian Answer. The idea is to clarify people's doubt about basic information about Gandhi. Secondly, there are many myths pertaining to Bapu's stand at various junctures of history. They can be explained by citing relevant sources. Apart from that, people may ask solutions to their problems; they will get Gandhian response to the problems without any final claims.
Chhote Gandhi – An Animation TV Show for Kids: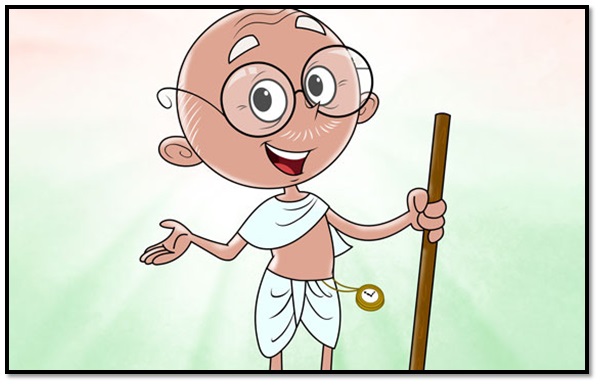 Children are enjoying Chhota Bheem, Little Krishna and Ganesha, but we have not been able to provide children with Chhote Gandhi in their favourite animation format. Gandhibharati will start an animation serial featuring Gandhi's animated avatar functioning in the modern-day world. It will be telecast in Gujarati, Hindi and English.
Collaboration:
For all the four major initiatives of Gandhibharati, the center aspires to collaborate with following organizations:
Gandhi and

Theme

His Philosophy

Planning

Technology & Research

Design Solutions

Rural Development

Communication

Name of the organization

Gujarat Vidyapith

IIM- Ahmedabad

MIT

CEPT

IRMA

MICA

Gandhi Research Foundation

NITI Ayog, Govt. of India

IIT& NIT

NID

Pabal Vigyan Ashram

NIMCJ

Gandhi Ashram

UN, UNESCO

TATA (TIFR)

Department of Architecture, MSU

World Bank

TCS
**